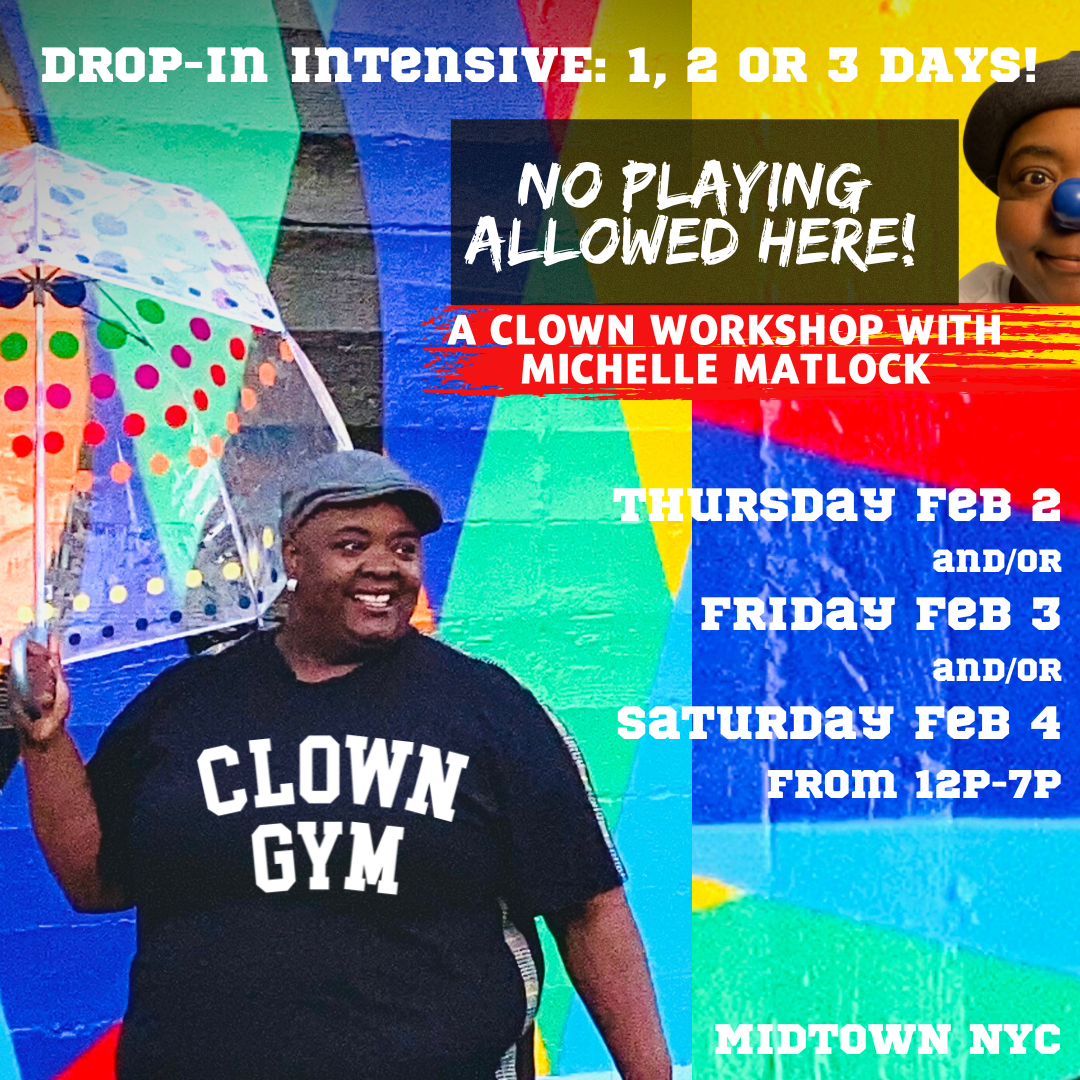 No Playing Allowed Here! a clown workshop with Michelle Matlock
When: Thursday February 2, Friday February 3, and/or Saturday February 4th from 12-7pm. You can sign up for one, two, or all three days.
Where: Clinton Cameo Studios, 307 W 43rd Street Studio A in midtown Manhattan
Cost is on a sliding scale, you choose the amount: 1 day $125-$175, 2 days $225-$275, or $295-395 for the 21hour workshop.
WORKSHOP DESCRIPTION:
As a clown and a guide in clown workshops, my current mission is to find ways to decolonize the art form. What that means for me is that I am in a continuous and intentional process of rethinking how I approach clowning. Quite often it means unlearning and reinventing some of the techniques that I have been taught, changing the language that I use and sharing the unique experience that I bring to the art form. Ultimately, it is an emotional, intellectual and spiritual endeavor that involves centering myself as an African-American nonbinary woman and not allowing my work to be a performance tailored for the white, cisgendered male view. I invite all participants to think about what decolonization means to you and to join the conversation.
In this workshop we will examine traditional clown scenes, and use them to create something new and or evolved. We will devise and show each other clown stuff everyday. In addition to that challenge we will:
Relish in our joy
Find the pleasure in being present & expressing emotions
Identify when the pleasure is gone
Accept and love our own ridiculousness
Develop a fun connection with the audience
Celebrate our debacles and triumphs
Embrace the unknown in order to create something new
Laugh our pants off!
Michelle will guide the group through acting, improvisation and clowning exercises/games that will stimulate all of the above. Bring your clown nose or don't.
Who is it for?
Actors, clowns, circus performers, singers, dancers, musicians, students, teachers, new and experienced players are welcome.
ABOUT MICHELLE
Michelle Matlock is a performing artist, teacher, producer, director and creative coach. Michelle had the pleasure of creating the role of "Ladybug" for Cirque du Soleil's big top show OVO and she toured with that show for close to 10 years. Michelle spent 15 long years in NYC joyfully rolling around in the dust with Circus Amok, Bindlestiff Family Circus and Big Apple Circus Clown Care. Also, during that time period, Michelle developed and toured her critically acclaimed one person show "The Mammy Project" in venues all over North and South America. They are currently Adjunct Faculty at Dell'Arte International, Chief Equity Officer at Laughter League and lives in Tacoma Washington where she is on the creative team of Puget Sound Revels and Producer of the Tacoma Light Trail Performances. Michelle hates the taste of tomatoes but loves throwing them.