Clown Gym is an affordable weekly lab to study theatrical clown and games. Drop-in, come every Tuesday- whatever works for you! Wear movement clothes and sneakers cause we get sweaty.

A powerful training tool for actors, clown helps connect you to the more spontaneous and generous impulses of your work. It's funny. And not funny. But that's funny, too. Guided exercises will explore the spirit of the red nose (the smallest mask in the world) through games, songs, improvisation, and development opportunities.

No experience necessary, feedback will be tailored to the individual. All are welcome when you bring your sense of curiosity and play!
Tuesday Nights
No Clown Gym Dec 25 or Jan 1

January is a special four-week bouffon workshop. Email info@clowngym.com for details.

Drop-in Clown Gym resumes
Feb 5, 2019
Molloy Studios
50 Broadway, 4th Floor
New York, NY 10004
Pricing
click the pig for more
The History of Clown Gym

Clown Gym was founded by Julia Proctor in 2014 while apprenticing master clown teacher Chris Bayes. Students kept saying "I love this work, it's changed my life!" and then inevitably asked, "how do I keep going?" Clown Gym was born.

The first year was a collaborative, member-sourced experiment in play. Julia led most of the classes, in addition to introducing lots of guest teachers from a wide range of backgrounds and pedagogies. The second year was primarily led by Joe Galan-Kaiser, a clown with years of improvisation experience, who focused on developing new performance material with members. Julia returned for the third year, introducing new pedagogy learned from her training with Philippe Gaulier and in graduate school at the Academy for Classical Acting. Clown Gym continues to build a thriving learning environment and community. The fourth season we were rocking and rolling with awesome classes and finished the season with the hugely successful Spring Clownathon, with ten amazing guest teachers.
Join us for an exciting fifth season!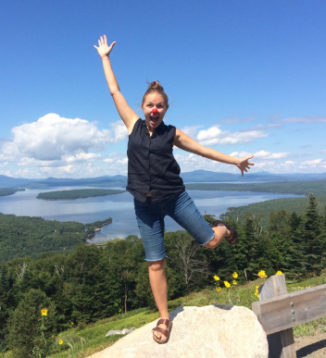 Julia Proctor
Founder / Director
Julia is an actor, clown, teacher, and community builder. In 2014 she founded Clown Gym as well as "An Unapologetic Mess: a clown show!", a monthly mess at the People's Improv Theatre, sharing her own work and mentoring emerging artists. She completed an MFA from Shakespeare Theatre Company's Academy for Classical Acting, and has studied with some of the most prestigious clown teachers in the world including Philippe Gaulier and Chris Bayes, with whom she completed a pedagogical apprenticeship. Julia is an improvisor, and trained with the People's Improv Theater's Improv Program. She's a member of the Funny School of Good Acting's Commedia Company, is an adjunct faculty member at Pace University, and is a proud member of Actor's Equity. Julia believes theatre, especially theatrical clown, is a powerful tool to build community through shared visceral experiences.


Special Thanks to Founding Clown Gym Members
Emma Simon, Alex Ristov, Billy Schultz, Devin Shacket, Owen Scott, Erin Roy, Royce Hufford, Megan Stern, Tracy Einstein, Joe Galan-Kaiser, Leslie Roth, and Erin Frisbee. And of course, Chris Bayes.
Subscribe to the Clown Gym

email list