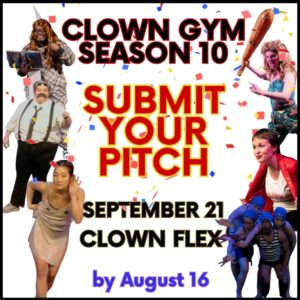 We are looking for six 3-8 minute long clown acts for our first Clown Flex of Season 10!
The show will take place on Thursday, September 21st at 7:30pm at Brooklyn Arts Haus and will be hosted by Julia Proctor.
Who should apply: anyone with a funny/beautiful/creative/stupid/superintelligent clown act, who has attended at least one Clown Gym workshop.
Vibe of our show: funny, creative, messy, innovative, moving, full of love.
Pitches we encourage: Nose, no nose, talking, no talking, whatever clown means to you. Solo, duo, a group, whatever! It should be well-rehearsed and something you're very excited to share.
Note: do not make a literal mess in your act.
To apply you must be available for:
1. Company rehearsal on Thursday September 7th from 7-10pm in Midtown.
2. Tech rehearsal from 4-6pm at the venue (we can stagger call times if you work during these hours).
3. 7:30pm performance, 6:30 call time on Thursday September 21st.
The Brooklyn Art Haus is located at 24 Marcy Ave in Williamsburg.
Pay: $50/act + photos and videos.
Deadline to submit: August 16th midnight ET. 
Submit here