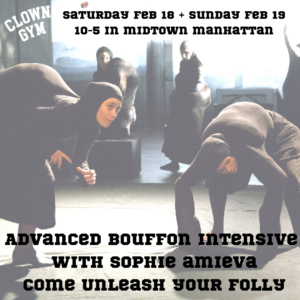 Advanced Bouffon: Unleash Your Folly, Grotesque and the Mockery with Sophie Amieva
Feb 18 and 19 from 10-5pm (President's Day Weekend)
Cost is on a sliding scale, you choose the amount between: $225-$300.
Clinton Cameo Studios, 307 W 43rd Street Studio A in midtown Manhattan.
Prerequisite: The January Weekend 1 with Sophie, prior bouffon experience, or extensive clown training. Questions? Email info@clowngym.com
WORKSHOP DESCRIPTION:
The Bouffons seduce the audience and hold a mirror to the underbelly of human greed, power, and sexuality. How do they speak such truth to power and make us laugh at the same time?
During these 2 days, we'll address who's in the room to set a foundation to play and then dig into the Bouffons realm. What is our own relationship to power?
How do we create the stylized mask realm? How to maintain presence and tension to keep the critique relevant? What is the game of the Bouffons?
Through mask skills and games we are looking to find the Folie (the madness) that makes performers unique and memorable. Be ready to be challenged, to shake your own ground, and to find the freedom to let go: you will be Magnifique!
ABOUT SOPHIE
Sophie Amieva is French and the artistic director and main producer of NotAmuse Theater, founded in 2016. Praised by the New York Times for "display[ing] a fine talent for comedy." She studied at École Jacques Lecoq, the Samovar, Philippe Gaulier, and performed extensively in Europe with street performing troupe "la Grappe des Bouffons." She has worked with many companies including La Rumeur Compagnie, Philippe Genty Compagnie, 600 Highwaymen, NTUSA, International Wow Company.
Sophie has taught in many professional acting studios and as adjunct professor at NYU Tisch School of the Arts, where she has taught Bouffon and clown for 15 years.
In the last 4 years, notamuse has focused on The Medusa Project, a body of work that revisits female monsters and aims to restore a thread between ancient benevolent beliefs around women while defying and rejecting over 4,000 years of patriarchal mythologies and moralities.