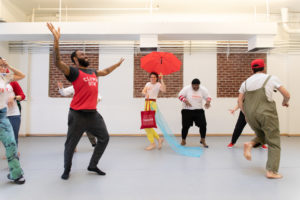 WHAT: Each class features a warmup, group games and individual and/or small group exercises. Wear movement clothes, because we get sweaty. You must register in advance to attend Clown Gym.
WHO: All experience levels are welcome and encouraged. You'll be challenged and have fun.
Follow us on Instagram or Facebook for up to date news about teachers.
PRICE: sliding scale, you chose between $25-$40.
COVID Protocols: You must be vaccinated and BOOSTED to attend Clown Gym. Masks must be worn while entering and moving around the building. In the studio: masks will be worn. The group will decide if solo/small group presenters can remove masks. Please only attend if you are feeling well.
WHERE: Clinton Cameo Studios, 307 W 43rd Street in Studio A.
REGISTER