Will resume in the fall of 2021
PWYC to the guest teacher in person (cash or venmo).
Masks (the COVID kind, not the red noses) and social distancing required.
You will be asked to leave if you can't follow safety protocols.
Meet at James S.T. Stranahan Monument (photo below) near Grand Army Plaza and move as a group.
No RSVP necessary, just show up by 3pm!
See below for teacher information.
Fall 2020 Outdoor Clown Teachers + Workshops
"Packaging Your Play at Whizbang Speed: In-Person Express Collaboration" with Jarrod Bates Sundays Sept 13, 20 + 27.
"October Sunday FunDays" with Madeleine Joyce Sunday October 4 +18.
"Stretch Your Imagination and Muscles" with Marisa Miranda Sunday October 11 + 25.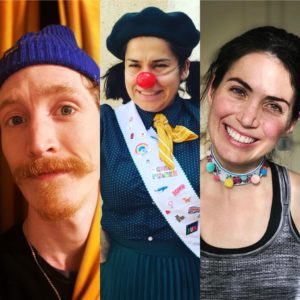 Check out Clown Gym's exciting lineup of expert clown teachers on Zoom!