SEASON 9: September 2022 – May 2023
---
Red Nose Intensive with Clown Gym Director, Julia Proctor
When: Saturday March 11 and Sunday March 12 from 10am-5pm, with an hour lunch break.
Where: Clinton Cameo Studios, 307 W 43rd Street in Midtown Manhattan
Cost: Sliding scale, you choose the amount between: $250-$300.
During this weekend intensive we'll play with the red nose, the smallest mask in the world, to help reveal more of the messy, joyful, courageous and funny parts of your artistry. The goals of the weekend are to give joy and pleasure more value in your work, to explore how the red nose impacts your body and imagination, to match the scale of your physical and emotional impulses to intention, to play with less stress and self-criticism, to enjoy the comic problem rather than solve it, and to surprise yourself as a performer.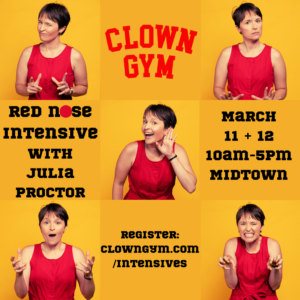 ---
When: Saturday May 20 and Sunday May 21 from 10-5, with an hour lunch break.
Where: Clinton Cameo Studios, 307 W 43rd Street in Midtown Manhattan.
Cost: $275.
Stirring up rebellion and transgression in clown mode
With all the current rules and restrictions, maybe you feel the clown's anarchic spirit dwindling within you. Perhaps you've even quelled that rebellious and nonconformist part of you and have passed into resignation mode.
But as clowns, it is our role to be provocative; question the status quo, voice our discontent, deflate the arrogance of the powerful, mock absurd regulations, be irreverent, insolent, and bold enough to poke fun at anything and everything.
In this workshop, we will engage in foolishly disrespectful activities. You'll be invited to risk severe clown punishment to stand for the underdog and incite them to resist. You'll explore the fun of being righteously angry, of lodging a complaint, of making up ridiculous laws and of parodying authority figures (behind their backs). And be guided on how to do this in a way that inspires others to recognize their conventionality and dare to be different.
Rebel Clown will challenge and stretch your boundaries, give you ample opportunities to fully enjoy your rebellious spirit and inspire you to let your clown find creative ways to disrupt the status quo.