Fall season: Sept 15 thru Dec 15, 2020.
Classes every Tuesday 7:30-9:30pm EST on Zoom.
Taught by different exciting teachers each month.
Advanced registration including payment is required.
How do you register? September sign up! October sign up!
There will be a new signup sheet each month. 
I'll confirm by email if you have a spot or are on the waitlist. 
Cost: pay what you can. Suggested class cost is $20.
Payment accepted through Venmo and Paypal after registration is confirmed. 
Max class size: 15.
Zoom link will be shared after payment. 
2021 schedule will be announced later this year. 
Have a request for a special guest teacher? Have other questions? Email info@clowngym.com!
Want to play outside this fall? Check out Clown Gym's outdoor classes!
October Zoom Teachers
Tuesdays Oct 6 +13 "Power of Play with Michelle N. Matlock
The creative power of play is what keeps performers and creative entrepreneurs thriving. Michelle will lead the group through a variety of exercises and games that will allow you to discover your unique funny bone, sharpen your stage presence, and give in to every spontaneous opportunity.  Clowning techniques, acting exercises and improv games will be used to explore the wonderful gift of failure, the ultimate skill of being present on stage and the ability to embrace the unknown in order to create something new. The group will explore and play in a safe and fun atmosphere.
Michelle N. Matlock is a Performer, Teacher, Producer and Director. Most recently, she created the main character/clown "Ladybug" for Cirque Du Soleil's touring show OVO. While with Cirque, she visited 13 countries and performed in over 2000 shows! She is a native of Washington State, where she studied theater at Western Washington University for three years and then went on to graduate from the National Shakespeare Conservatory in New York City. She spent 15 years in New York acting, clowning and creating shows while working with the Big Apple Circus, Circus Amok and the Bindlestiff Family Cirkus. Her critically acclaimed solo show, The Mammy Project, has been produced several times in New York City and all over North and South America. Currently, Michelle lives in Tacoma, WA and is the founder of Circle Up Productions, a live entertainment and performance education company focused on producing a blend of theater and circus arts shows, leading performance arts workshops and curating special events.
Tuesdays Oct 20 + 27 "I'm with Stupid" with Geoff Sobelle
"You have two people, you have the world"- Athol Fugard. 
Geoff Sobelle will lead a workshop in creating physicalized comedic "clown" duos. Hilarious duos are born of an oppositional magnetic force to create a singular dynamic; an inevitable chemistry; a unique DNA that is as particular as its two counterparts. This workshop leads participants to create characters that provoke, prod and spur their creative partners to develop the "functional dysfunctional relationship."
Geoff Sobelle is a US-based actor and creator devoted to making original actor-driven performance works. His shows include: HOME, The Object Lesson, Elephant Room, all wear bowlers and machines machines machines machines machines machines machines (among others). In pandemic life, he has created a follow up to the magical clown show, Elephant Room called: Dust from the Stars. He has received commissions from BAM, Lincoln Center, Arizona State University, Center Theatre Group, Edinburgh International Festival and The New Zealand Festival. His shows have been recognized by a Bessie Award, an Obie Award in design, two Edinburgh Fringe First Awards, the Best of Edinburgh Award, a Total Theatre Award and an Innovative Theatre Award. He is a Pew Fellow and a Creative Capital Grantee. Geoff was a company member of Philadelphia's Pig Iron Theatre Company from 2001-2012. He trained in physical theater at the Lecoq school in Paris and is a graduate of Stanford University. He is currently a professor of theatre and performance at Bard College.  
September Zoom Teachers
Tuesday Sept 15 Season 7 kick-off with Clown Gym director Julia Proctor!
Tuesdays Sept 22 + 29 "Punching Up:" Clowning for Social Justice with Omari + Spark.
Is all fair in comedy? Is comedy above offense and social boundaries? "Punching Up" is space to explore and play with comedy that takes aim at the dominant narratives given to us and acknowledges the hierarchies that exist in all interactions. Join Spark and Omari in inquiry and practice of satire that exposes the absurdity of oppression.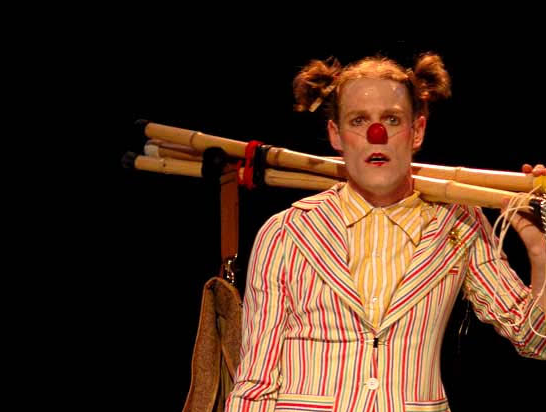 Omari Soulfinger is a performing artist dedicated to creative advocacy. Omari integrates comedy, puppetry, mime, clowning, and burlesque into his community organizing and social work practice. He is currently a joker and communications director with Theatre Of the Oppressed NYC. Additionally, he is also a veteran member of Brooklyn Movement Center focusing on police accountability, anti-racism and education justice, and All Kings, a community focusing on male identifying allyship and emotional literacy.
Spark LeoNimm is a Founding Joker of Theatre of the Oppressed NYC.They have studied Theatre of the Oppressed with Falconworks and in Guatemala with Stephane Gue. They are also a hospital Clown with Healthy Humor Inc's Red Nose Docs and has toured with Clowns Without Borders to Mexico & Guatemala. Spark teaches and creates subversive physical comedy. They are a graduate from the Dell 'Arte School of Physical Theatre. Awards: Gold Medal, NY Clown Olympics; Best Comedy & Best Physical Theatre, SF Fringe Fest; Encore Award, Boulder Fringe Fest; "Must See," Chicago Fringe Fest; Individual Artist Project Award; Rasmussen Foundation.