Winter/Spring session: Jan 12 through May 16, 2021.
Classes every Tuesday 7:30-9:30pm ET on Zoom, plus special programming.
Taught by different exciting teachers each month.
Advanced registration including payment is required.
How do I register? April signup! May signup!
There will be a new signup sheet each month. 
I'll confirm by email if you have a spot or are on the waitlist. 
Cost: pay what you can. Suggested class cost is $20.
Payment accepted through Venmo and Paypal after registration is confirmed. 
Max class size: 15.
Zoom link will be shared after payment. 
Join us at Do the Virtual Clown Show!
The final show is on Thursday May 6 at 8:30pm EDT.
Zoom link: https://bit.ly/3gEmDXG
Zoom Meeting ID: 971 5686 3343
Passcode: showtime
Have a request for a special guest teacher? Have other questions? Email info@clowngym.com!
BIPOC Exclusive "Power of Play" series with Michelle N. Matlock!
Sundays 3-5pm ET
Jan 17, Feb 21, March 21, April 18 + May 16
Take 1, 2, 3, 4 or all 5!
Register here for the series with Michelle!
This workshop series invites Black, Indigenous and People of Color (BIPOC) to exercise our freedom to have pure joy through the creative Power of Play. Too often as BIPOC clowns, actors and creatives, we are the only one in a cis white male dominated creative or learning space and the filters that we have been conditioned to "put on" can suppress our most inspired ability to discover and create at our full potential. Power of Play Workshop, BIPOC Exclusive is an opportunity to dive head first into our right to fully relish in our creative delight and playfulness!
Special Event: An evening with Sue Morri
April Workshops with Amy G!
1st session Timing on April 6: We'll dig into timing – what it is, how to find it, and how to expand and contract it at will, to make absolutely anything funny.
2nd session Relationships on April 13: We'll explore relationships and mine them for comedy gold. (Not your personal relationships, of course, that's another class altogether, I mean your relationship to your body, your situation, and your world.) We'll play with building tension and release in those relationships for story and laughs.
3rd session Date night on April 20: Since this is 2021, we could all use a date night. We'll set the screen as a venue and explore how to create and play within it; dress up with props/costume, clowns' best friends or worst enemy, and pair you up for partner play. No need to bring your own partner, but please do have unbreakable items and costume pieces you feel comfortable playing with. We'll break out into pairs to mess around with classic red/white clown roles as well as more contemporary and specific improv duo work with agreement, endowing, status, and keen observation.
4th session Devising on April 27: Hopefully you will have attended some or all of these other sessions so we can add it all up to start the process of creating a piece. We'll engage an original devising process, learning a way in to create a personal, high stakes, specifically hilarious entrés. If there's time we may also get to see and workshop some previously created material from members of the class.
Register here to play with Amy G!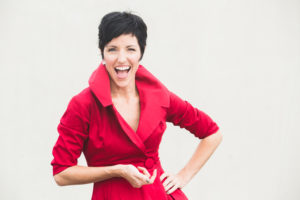 Amy G has toured as a comedian/clown for 20 years, and has performed in 46 countries and 5 languages. In NY, she played those shows at New Victory Theatre, Symphony Space, Union Square Theatre, Joe's Pub, 54 Below, The Deluxe, Roxy, Cutting Room, and was the Big Apple Circus' first female solo clown in the character she created and wrote, Pidge, the NY Pigeon who couldn't fly. Other favorite venues include Sydney Opera House, London's Hippodrome, Kennedy Center, Pasadena Playhouse, and the Cosmopolitan (LV) with Spiegelworlds Opium. She was the Artistic Director of Daredevil Opera Company, a featured player in the Olivier and Off-Broadway League-awarded variety shows, La Clique and La Soiree, and was the writer/comedy director for the hit Broadway show, Anti-Gravity's Crash Test Dummies, as well as the the interactive James Bond concert/comedy show she starred in across downtown NY, Shaken Not Stirred. This year she is premiering the sitcom pilot she wrote, produced and starred in, Big Time, about a woman running away from the circus. Filmed work includes Tyler Perry's A Fall From Grace, and TV shows (Bull, The Undetected.) Her Kazoochee act at Just For Laughs was one of the 30 most viewed videos on YouTube. She's been a semi-finalist on Got Talent shows in Germany, Italy, and France, and on comedy specials in Austria, Germany, and the UK. She is building a house upstate with her husband but can most often be found rollerskating in the attic.
amy-g.com (IG/FB @amygforce)
bigtimeseries.com (IG @bigtimeseries, FB @bigtimetvshow)
May Workshops with Julia Proctor!
Join Clown Gym founder and director Julia Proctor for the final classes of Season 7!
May 4 + 11 from 7:30-9:30pm EDT
Register here to Party with Proctor!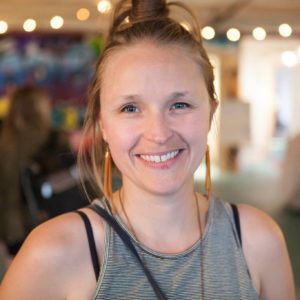 Season 7 Zoom Teachers + Workshops
Sept 15 Season 7 kick-off with Clown Gym director Julia Proctor!
Sept 22 + 29 "Punching Up:" Clowning for Social Justice with Omari + Spark
Oct 6 +13 "Power of Play" with Michelle N. Matlock
Oct 20 + 27 "I'm with Stupid" with Geoff Sobelle
Nov 10 + 17 "Clown In The Wild" with Ralf Jean-Pierre
Nov 19 "Power of Play" BIPOC workshop with Michelle N. Matlock
Nov 24 "Accidents Will Happen!" with Hilary Chaplain
Dec 1 + 8 "Funny For A Minute" with Aitor Basauri
Dec 15 "Play with the Boss" with Julia Proctor
Jan + Feb Special 6 Part Series: "It's Not About the Banana" with David Shiner
Jan 12 "Joy with Julia" with Julia Proctor
Jan 19 + 26 "Daddy, daddy, look at me daddy!" Bouffon with Sophie Amieva
Feb 2 + 16 "Playing Yourself" with June Fukumura
Feb 9 + 23 "Why Stop the Music?" with Meredith Gordon
March 2 + 9 "Trickster" with Mike Funt
March 16, 23 + 30 "Virtual Playground" with Shannan Calcutt
April with Amy G: Timing, relationships, partnership and devising
May 4 + 11: "Party with Proctor!"